You're Invited: KREWE OF HELIOS-AZ MARDI GRAS PARTY & PARADE, PART 8
Laissez les bon temps rouler!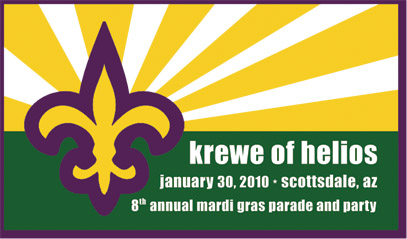 We hope y'all will join us for the Eighth Annual Krewe of Helios-Arizona Mardi Gras Parade and Party:
Saturday, January 30, 2010
4PM-10PM***
Pat and Stacy World Headquarters
24952 N. 74th Place
Scottsdale AZ 85255
As many of you have been here, done this and actually returned home with a T-shirt (and boatloads of authentic Mardi Gras beads), no changes have been made to our parade route or party format - but in case you had one too many hurricanes last year - or the year before that, or the year before that - here it is in a nutshell:
Arrive on time (4 PM) for the parade... bring the kiddos, a friend and a lawn chair, but no four-legged companions... genuflect before our 2010 Parade Queen Tami Simmons... catch the bountiful beads raining down from our cul-de-sac-circumnavigating flotilla of floats (but please, keep your clothes on)... get in line... eat some homemade Cajun goodness (gumbo, red-beans-and-rice, grits, muffalettas)... drink some hurricanes (but not too many)... eat a slice of authentic New Orleans king cake (but don't choke on the baby) and laissez les bon temps rouler!
For those of you who do not arrive on time (4 PM), don't whine to us that you are eating the pan-scrapings of cold grits. Do not complain that you have never seen a muffaletta and believe it to be offensive to your Italian heritage. Don't be upset when you see others wearing cool KREWE OF HELIOS-ARIZONA T-SHIRTS. You have been warned: The time is anointed, so don't be disappointed. 4 o'clock is the time to rock.
And for those of you late-arriving lackeys that look at your watch at 9:30 PM and think, "Hey, now's a great time to show up for the party!" THINK AGAIN! Our neighbors are nice people. They tolerate an annual parade on their street. They dig Mardi Gras beads out of their cacti and allow strangers to park in their driveways in exchange for our annual romp through the culinary goodness of the Bayou State. We like them. They tolerate us. They like to sleep (and so do I). The finish time for our party is 10 PM. If you are here at 9:59, expect a gentle serenade of "Turn Out the Lights, the Party's Over." If you arrive at 10:05, you will feel the wrath of cranky Stacy. Six hours is plenty of time to party!
So come on out and have some fun - January 30 - yes, it's early. The actual Fat Tuesday is February 16, but we'll be at our hometown Mardi Gras and the weekend before that is Super Bowl weekend, ergo, we decided to kick off the parade season... and yes, we are on the national parade calendar... but no, we are not the first parade of the year. So come on out and have some fun!
Krewe of Helios Arizona Mardi Gras Parade
Saturday, January 30, 2010
4PM-10PM
Be there, aloha!
(And for those of you who haven't been with us before, you can check out our parade etiquette and rules in this delightful 7th edition explanation... or even the 6th edition... or the 4th... you get the picture)