I'm No. 7!
Being berated by professional poker player Annie Duke at the World Series of Poker Academy in June has its benefits: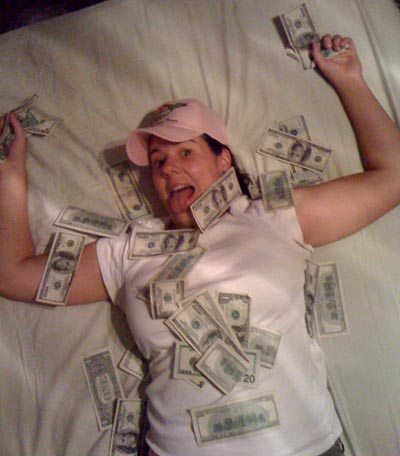 That would be me doing snow angels on my bed in the $3,361 that I won for finishing seventh at the Fourth Annual Arizona State Ladies Poker Championship on Saturday at Casino Arizona.
It may seem obvious, but it's worth stating plainly: $3,361 is a lot of money when it's counted out in thirty-three $100 bills, three $20s and a Washington. It may not smell like victory per se, but it does have the unmistakable aroma of unabashed excitement... and exhaustion... and lunch for my coworkers at Durants... and a new iPhone, laptop battery and patio furniture... and a richly deserved spa day for me and my Mom.
I played poker for ten-and-a-half hours on Saturday. Two days removed, I can say with some certitude that my brains still resemble mashed potatoes both in content and consistency.
From a card player's perspective, the Ladies' State Championship was solid. Not mind-numbingly frustrating with suck-outs on out-of-position Jack-2 offsuits. Not witheringly aggressive like the World Series of Poker. Just fundamentally sound No Limit Texas Hold'em, if plodding and deliberate. The gals weren't in it unless they had the cards - which is unfortunate when you make a modest pre-flop raise with pocket-Aces and NO ONE CALLS.
On my final hand, I re-raised all-in from the big blind with Ace-8 of spades. I had only about four big blinds left, and at that point, any Ace warrants a push. I suspected correctly that the initial raiser was making a positional move to take the blinds and antes ($44,000). She turned over a King-4 offsuit... I got all my money in with the best hand! (HOORAY!) ... Then the flop came King-4-9 (AAAIIIEEE!) ... and the turn came a King (GAH!) ... And that, as they say, is why we play the game.
Even so, I take pride in knowing that Annie would not have berated me for busting out when I did. I may not be the best, but I'm happy with seventh-best. Plus I also outlasted a real professional player, Cyndy Violette, who went out in 12th place.
Without a doubt, everything I learned this spring at the World Series of Poker Academy helped me finish where I did - this is not a paid endorsement, unless you interpret winning $3,361 as consideration.
So after all my female friends sign up for the WSOP Academy, I will strongly encourage them to play in the Arizona Ladies State Championship at Casino Arizona next year because 1) the entry fee will be less than this year's $300, and 2) the field will be larger, and of course 3) regardless of how you finish, you will be treated like a QUEEN! Don't believe me? Consider:
- All 250 players received a darling pink baseball cap as a souvenir - you may interpret that as being a $300 baseball cap, but all my $1,500 bought at the World Series was a receipt, a players' club card, a green paper bracelet and a bad case of indigestion.
- After the second potty break, the remaining 160-something players that were wearing their ball caps received $50 cash.
- Potty breaks were 20 minutes long, rather than the standard 12 minutes. If you're a woman, this is reason enough to enter.
- The "First Finisher" - aka the first to bust out - received her $300 entry back!
- The "Bubble Girl" - aka the gal who finished 31st and out of the money - received her money back.
- Dave, the friendly Tournament Director, plied us with free beer and wine coupons all afternoon. In no state to drink after seven hours of play with only a handful of almonds and two Jenny Craig bars on a butterfly stomach, I gave my drink cards to Pat when he showed up to sweat me in. Dave then sprinkled some more love on Pat and the assembled 20 or so spectators watching the final table.
- As we ground through the Top 20 to get to the final table, one of the gals started feeling a little puny (see above butterfly stomach). Because we wouldn't get a break until the final table, the floor man ran to the snack bar and bought all the peanut M&Ms they had, splitting six bags between the two tables. How's that for service?
- After the final table was set, they gave another $100 cash to all us girls wearing our hats. I had to borrow a competitor's cap because I'd exchanged mine for my cowboy hat in a feeble attempt to change my luck earlier in the day! (At the next break, I dutifully retrieved my ballcap from the trunk of my car and wore it proudly - I can follow directions).
So the best part of the day was Pat coming out to cheer me on after I made it into the money. I wasn't sure how long I would last after that (3 hours) - but with 30th to 21st places paying $680, he was excited that I'd be able to buy a new iPhone with my winnings and get my money back (Plus, the free drinks weren't bad either). With 20th to 11th places paying $790, I figured I'd be able to get a new iPhone, a laptop battery replacement and get my money back. From there, our imaginations got a little crazy - especially since the winner took home $20,000 and a trophy and a bracelet. I know, I know: Next year, next year.
Pat and I sent text messages to friends and fellow players from my monthly Girls Home Game, updating them on my progress. I wasn't allowed to have my phone turned on at the table, so at every break, I was greeted by a deluge of "You go girl! We're cheering for you! Keep it up! We're so proud of you!" The girls (and their husbands) played on Saturday night, and I told them to blind me in, even though I hoped to be very late. When I finally arrived, I walked in the door to a standing ovation, and I took a great deal of pleasure in sweetening their pot with a clean crisp $100 bill. Pat has enjoyed my saying, "I'll give you a hundred bucks if you'll fix me a drink."
And yes, I have already spent roughly 85% of the money: What can I say? The patio furniture was on sale! Guess I'll just have to come back next year, especially if I want the matching umbrella and dining set! And yes, next year I'll wear my World Series of Poker Academy patch... AND MY PINK BASEBALL CAP.